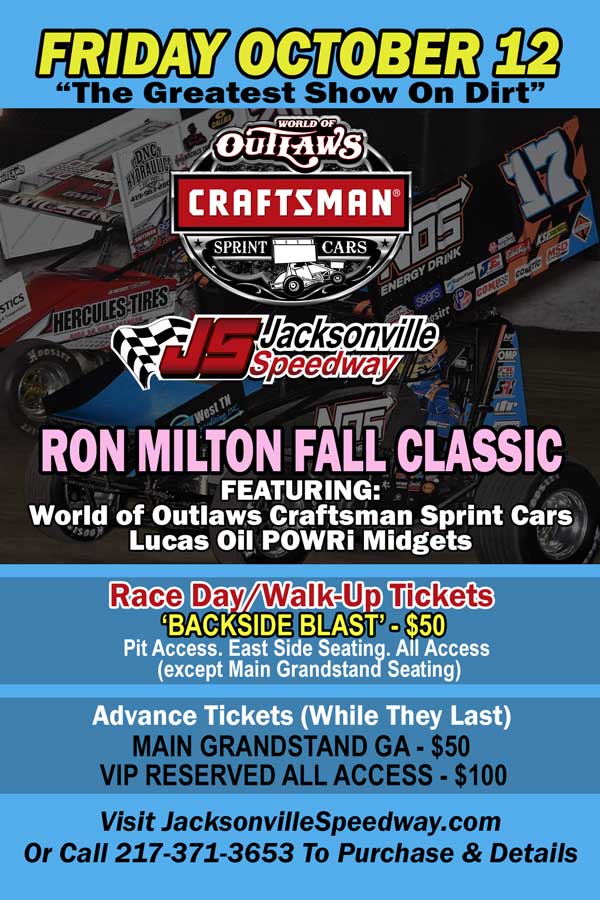 Any tickets ordered prior to Sunday October 7th will be mailed unless other arrangements for Will Call pickup are made. Contact Ken Dobson at 217-371-3653 with any special ticketing requests before or after ordering.
The World of Outlaws Craftsman Sprint Car Series returns to Jacksonville Speedway on Friday October 12, 2018 for their third and biggest event at our 1/4 mile bullring. The 2018 event will pay $10,000 to win – the largest payout in the history of Jacksonville Speedway. The Outlaws will be joined by the Lucas Oil POWRi Midget Series for an outstanding night of open wheel racing action.
Event Times
VIP Open: 4:00pm
Grandstands Open 4:30
Hot Laps/Qualifying 6:00
Opening Ceremonies: 7:00
TICKET OPTIONS
BACKSIDE BLAST: $50 (Ages 11-16 $25, 10 & Under $10)
Come One Come All for an experience you won't forget. This is our race night walk-up ticket. No advance purchase necessary, although it may be purchased in advance if desired. Includes general admission to our pit area and East Side seating. Full pit access. Access to entire grounds including West-side Hall of Fame Lounge, Concessions and Permanent Restrooms. (Cannot sit in Main Grandstand) Concessions, Beer and Soda and portable restrooms will be available for East-side seating as well although beer must stay in seating/standing inside of pit road. Entry points C, and D. Opens at 2:30 on race day.
VIP: $100 (Ages 11-16 $25, 10 & Under $10)
Very Limited Quantity Remaining: A VIP Ticket entitles you to a pre-race VIP party in the Pavillion North of the Grandstand with plate dinner, live band, complimentary beer, soda and water until 6:30, full pit access and a reserved seat of your choosing in our Main Grandstand. Your seat will be marked "Reserved For" the name that is written on your VIP ticket (Group Organizer). If purchased online we will contact you within 24 hours of purchase to arrange seating preference. All seating assignments from original April date remain in place. Seats will be taped off and marked "Reserved" with your group name on them. A map of seating locations will be available at check-in during the VIP pre-party.If you are uncertain whether your reserved seat location has been arranged, please call or text 217-371-3653. Entry Point B. Opens at 4:00 on race day.
GENERAL ADMISSION: $50 (Ages 11-16 $25, 10 & Under $10)
Very Limited Quantity Remaining: You can sit in any location in the Main Grandstand that is not marked "Reserved". We purposefully do not oversell our grandstand to ensure plenty of room for those with general admission tickets to sit. You may place blankets down in advance on race day prior to 3:00pm. However your allotted blanket space cannot exceed 2ft per guest attending. Entry Point A. Opens at 4:30 on race day.
PIT PASSES: $40- Max 4 Per Race Team/Car
Race Teams: Each race team will be able to purchase up to 4 pit passes for $40 each at the main pit shack. No one may purchase a discounted race team pit pass until the team driver/leader has arrived and provided a list of names for their team. Any required pit passes above the alloted 4 per car will be charged $50. Pit passes for ages 11-16 are $25, ages 10 and under $10. Entry Point C. Opens at 2:30 on race day.
---
If you have questions, please contact Ken Dobson at 217-371-3653 or email jacksonvillespeedway@gmail.com