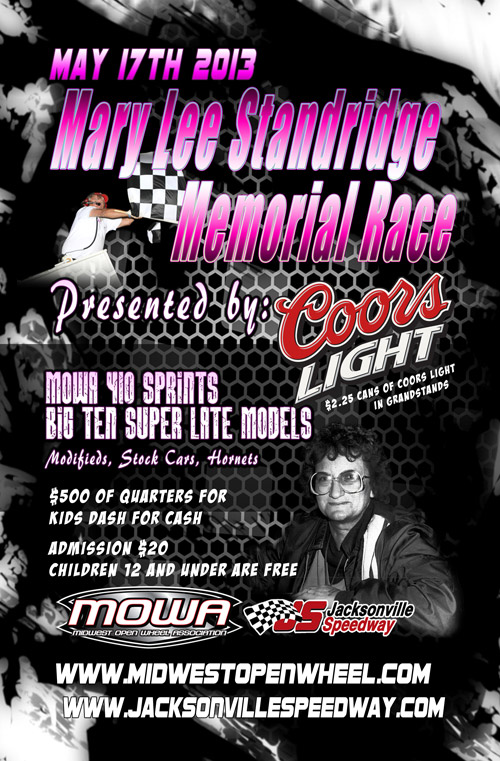 This Friday, May 17th, Jacksonville Speedway pays tribute to the late MaryLee Standridge with a full night of racing headlined by the Midwest Open Wheel Association (MOWA) 410 Winged Sprints and UMP Big Ten Super Late Models. The two biggest area series for the two premier racing classes will share the night's card with Modifieds, Stock Cars and Hornets also in action.
Both MOWA and the Big 10 series were scheduled to kick-off their seasons at Jacksonville on April 12th, but were rained out along with most other early season races at the track. Since then, MOWA has held events in West Burlington, Iowa and Danville, Illinois with Ian Madsen and Jac Haudenschild winning events. Lincoln's AJ Bruns currently sits atop the MOWA point standings with Chapin's Paul Nienhiser in the middle of what might become a break-out year for the 16 year old in second. Springfield's Jimmy Hurley is third in points followed by two-time champion Jerrod Hull and Emden's Ben Wagoner.
New Berlin's Steve Sheppard , Jr has won the first three Big Ten Late Model events of the season and will be trying to go four for four with a win at Jacksonville Friday. A host of the best area Late Model drivers are expected to be on hand to stop Sheppard's streak, including Jacksonville's Adam Mefford.
Many activities are planned to honor one of the great ladies of racing, Mary Lee Standridge including a Dash for Cash for kids with $500 of quarters to retrieve. The night is presented by Coors Light with $2.25 cans of Coors Light under the grandstands. Grandstands open at 5:00 with racing at 7:00. Grandstand admission is $20 for this doubleheader with children 12 and under free.