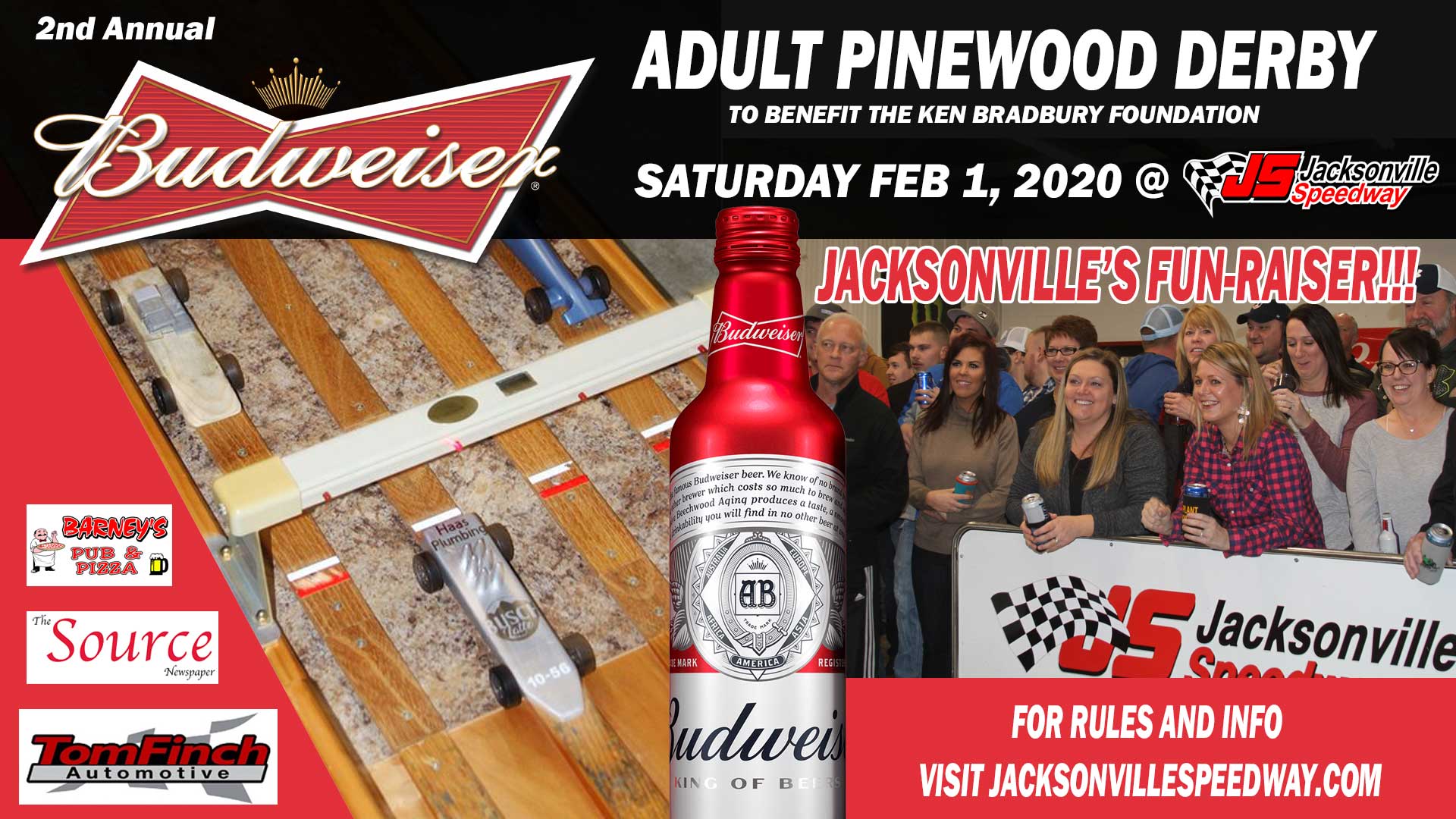 Date: Saturday February 1, 2020
Place:  Under Grandstand At Jacksonville Speedway
Times:  Doors Open 11:30.  Tech begins at Noon.  Racing to follow (roughly 1:00)
Kit Availability:   You can purchase a kit for $5 at Barney's Pub, Bill's West State Tavern,  Tom Finch Automotive and Golden Eagle Distributing in Jacksonville.   Kits may also be purchased at the Springfield Boy Scout Store or other Scout/Hobby Stores or Online.  Please note that you should purchase an Official BSA/Cub Scout Kit as the official wheels are required for all classes.
Entry Fee:  $20 per car on the day of the event.  All entry fees will go directly to the Ken Bradbury Foundation.   Early registration will likely be available as the event draws near.
VINTAGE CLASS
We realize that cars have previously been built under different sets of rules from pack to pack over the years.  We encourage you to bring your car that was built more than 8 years ago and we will group similarly built cars together and potentially have a few different "winners".
Cars should be untouched with no visible recent modifications or new parts except for what appears to be gentle cleaning.
BOX STOCK CLASS
The main body must be made of wood.   Additions are allowed but must be firmly attached and non-moving.

Width: Not to exceed 2-¾"

Length: Not to exceed 7"

Weight: Not to exceed 5.0 oz.  Scale at event will be conclusive.

Height: Not to exceed 3"

Clearance:3/8" clearance to center rail. The wheels are the only part of the car allowed to touch track.

Wheel Width: Wheels must clear center guide rails, no less than 1-¾" minimum

Wheelbase: Axles must use original slots for the full length of the axle.  No intentional canting or angling of axles. 

The axles supplied with the kit must be used. They may be polished or lubricated.

The axles should not be mounted at an angle or deliberately bent in order to tip any of the wheel treads to an angle.

No narrow pointed front ends. Must be ½" wide and not protrude beyond starting pin.  No magnets or other devices in front end to gain starting advantage.

4 wheels attached to the sides of the car body. All wheels required to touch track surface.

No wheel covers or wheel weights




Prohibited items:

Springs

Starting devices or propellants

Electronic or lighting devices

Liquids, wet paint, oil, sticky substance or powders (other than dry axle lubrication).

Glass or fragile parts

Bearings or bushings

Loose/moving objects

Washers, bushings,  tape or other materials between wheel and body other than dry lubrication and paint consistent with rest of car. 

Only official BSA wheels are allowed The only allowed wheel modification is removing burrs.  No excessive sanding or removing tread surface or reducing tread width. No coning of the inside hub.

All lettering and numbering, both inside and outside of the wheel, must remain complete and be visible with the wheel on the car.

Tread surface must be flat and parallel to the wheel bore.  No rounding of tread surface, grooving, H cutting or V cutting to create smaller wheel contact area.

The following wheel modifications are prohibited:

Removing material from the inside tread surface or inside sidewall.

Drilling holes in any part of the wheel.

Removing material from the sidewalls or spoke or inside.

Filling wheel tread with any type of material

Filling the wheel bores and re-drilling the bore.

Coning of inside hub

Dry powdered lubricants only.

Lubricants may not be applied after car presented for inspection/impoundment.
SUPER STOCK CLASS
Cars must conform to the Box Stock Rules Above with the following exceptions:
WHEELS
Wheelbase can be extended. A standard wheelbase is 4 3/8 inches from center of front axle to center of back axle. For the Super Stock division, any wheelbase can be used except the tires cannot extend past some part of the body of the car and the front tires must be at or behind the starting mechanism. In other words, if you were to push the car into a wall either frontwards or backwards, some part of the wood body should strike the wall before or at the same time as the wheels.  

Axle holes may be drilled into the body of the car as long as all other specs are met.  

Outer wheel surface may be sanded, shaved, lathed or polished to remove any imperfections, true roundness, remove mold castings and burrs, but must not be reshaped in any way to minimize tread contact or alter aerodynamics. 

The fluting (small decorative dots on the edge) must remain visible around the entire circumference. 

The tread / contact surface must remain flat and parallel to the bore. 

The width of the tread must not be less than 7.5mm 

No removing or reducing the letters or spokes or drilling additional holes.  
The following wheel modifications are NOT Allowed: 

No Rounding of the wheel treads – they must remain flat. 

No Grooving, H-cutting, V-cutting, Crowing, Tapering or Dishing 

No Altering the wheel profile 

No Drilling sidewalls 

No Filling of any wheel surface with any type of material  
There must be at least four wheels on the car, however it is not required that all four wheels make contact with the track surface – one wheel may be lifted from the track surface. o Each wheel must be mounted on an axle, on the outside of the car, on the side of the car. 

 One wheel can be no more than a 45 Degree from the perpendicular side of the car if desired

Each wheel must be attached by an axle 

Non-Dominant / Lifted wheels must meet wheel specifications 
AXLES  
Nail type axles are to be used. 

You may or may not choose to use those found in the Official Pinewood Derby kit.  

Modifications to the Axles are allowed that include straightening, sanding, polishing, canting, grooving, beveling & tapering of axle head as long as the Diameter of the Axle is not reduced the Diameter may not be less than .084 inches (2.13mm).  

Axles can be mounted by drilling Axle holes or inserted into the slots on car.